Make this DIY Coat Rack with an assortment of knobs on wood slats. Hang your hats and coats in-style on this easy DIY craft tutorial idea.
This has been one of those simple projects that we have been working on for a year. Yup, one full year.
Paul has been requesting a coat rack by our entryway because there always seems to be coats hanging on all of the chairs and couches. A year ago, we went to Hobby Lobby to get some fun pretty knobs. Then the knobs got put into a bin in my craft room. While both my husband and I were off for Christmas break he suggested we get that coat rack made. I pulled out the bag of knobs and the receipt was for exactly one year earlier. Nothing like a little procrastination!
Supplies Used: Some links may be too similar items when exact items couldn't be found online.
Knobs in different colors and styles
Primed Pine Wood
How to Make a DIY Coat Rack
The first step was getting out all of the knobs and laying them out and arranging them. We wanted to know how big of a piece of wood to buy.

We decided that we wanted it to be about 40 x 8 1/2 inches. The longest screw backing to the knobs was 1 3/8 so we knew that we would have to account for that as well.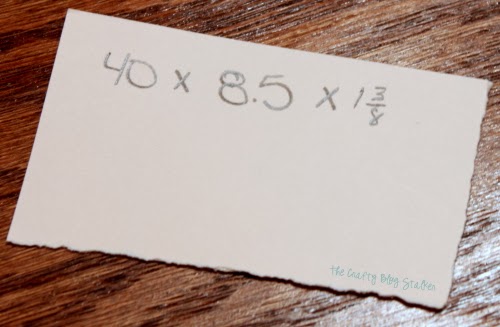 Off to Home Depot we went.
We measured lots of different pieces of wood to see if we could get what we envisioned to work. We ultimately decided to go with 2 different sizes of Primed Pine Board. We got one length of 1x4x8ft and one length of 1x3x8ft.
On a side note, wood measurements are stupid and inaccurate, What is the point? How hard is it to have a 1×4 if the sign says they are 1×4? But in all actuality they are .75×3.5! A man had to come up with that system because it makes absolutely no sense at all.
Sorry about that little rant, back to the tutorial.
Here is my best sketch of how it all went together. I felt I could explain it better with a drawing, but this drawing is not to scale, I just wanted to show you what I was thinking.
Once we had a good idea of what we were doing we went to the saw table and cut our lengths of wood to what is stated in the sketch above. We used the entire length of 1x3x8 but had a good chunk of the 1x4x8 left for some unknown future project.
When we got the pieces home I went to work on sanding the strips of wood. I know they were not painted only primed, but I wanted the wood to have that worn/stressed look to them. So I sanded to reveal some of the grain, the edges, and corners.
This is how the pieces looked when I was done sanding them. Already I love how this is turning out.
Before we add the knobs we need to add the support braces to the back. This will keep all of the boards aligned like we want and give the space on the back to allow for the screws of the knobs. You will want to use screws that are just a little bit shorter than the depth of the two boards. You want to hold the two boards together but not have the screw push out the front end.
To place the knobs on the front, I measured out where the knobs could go so they would be evenly placed and my husband drilled the holes and screwed them in.
We put almost all of the knobs in but left a couple off where we would need to screw the rack into the wall.
The coat rack needs to be screwed into studs in the wall so they are good and sturdy, so we put that into account when we were putting the braces on the back and put them in the same plus the studs are in our wall.
We used super long screws to attach it to the wall to make sure it went through both pieces of wood and into the stud.
My son also jumped in on the action so he could help Dad keep level and I could be the photographer.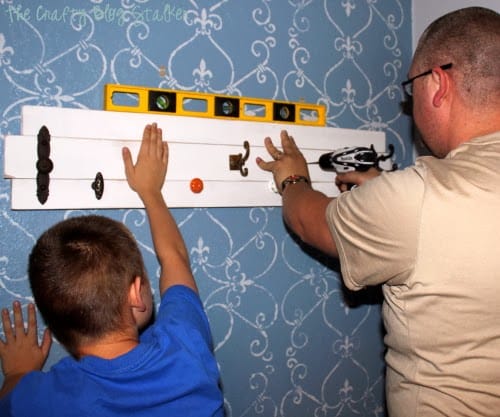 Once everything was secure Paul screwed the last couple of hooks into the board.
I took some white paint and dabbed it over the dark screws to help hide them.
Doesn't it look awesome, and completely functional too! I love the mish-mash of all the different knobs.
After all was said and done it took about a year and 2 hours to put it all together.
Do you have a favorite home decor piece in your home that you DIY'd? Share and leave a comment below!
And let's be friends on Pinterest so you can see all the fun DIY projects I'm pinning!
You Might Also Like: