Grab the kids and make the Best Chocolate Covered Marshmallows for Easter or Spring! These marshmallow pops are easy to make, yummy to eat, and fun to give!
Complete step by step instructions and tutorial below!
Looking for a fun Easter treat that even the kids can help make? These little Chocolate Dipped Marshmallow Pops are cute delicious!
Ingredients for Chocolate Marshmallow Pops
Items linked below may go to similar items when exact items couldn't be found online. Links are affiliate so when you purchase, I will get a small kickback to help fund the next tutorial!
It all started with this bag of Egg Swirlers Marshmallows. When I saw them in the grocery store, I started thinking of the possibilities right away. The Marshmallows are good sized, plus there are different flavors.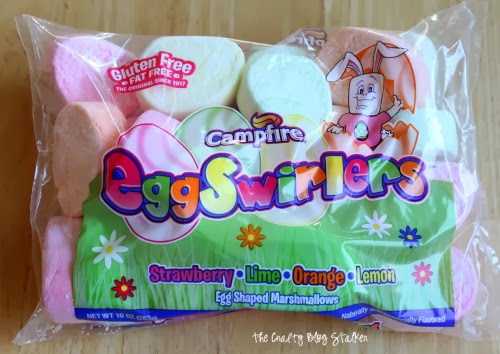 I already had some CandiQuik at home, so no need to buy more. I love this chocolate and I always have some on hand.
Melting CandiQuilk Chocolate
The first step is to melt the chocolate. Break the CandiQuik chocolate and put it into a microwave-safe container.
I chose a drinking glass, it is the perfect size for dipping. Put the chocolate in the microwave for the 30 secs at a time, stirring after each session, until the chocolate is melted nice and smooth.
How to Make Chocolate Covered Marshmallow Pops
I put my marshmallows on sticks to make Marshmallow Pops. You could also use the cute Paper Straws. Dip the end of the stick in chocolate.
Insert the stick into the bottom of the Marshmallow. This will help the marshmallow stick to the stick – that's a funny sentence!
I let that dry for just a minute before I dipped the whole Marshmallow in the chocolate. Make sure to completely cover the marshmallow.
Let the excess drip off before you pull it all the way out of the glass.
Add the sprinkles before the chocolate sets up. Just sprinkle all over the pop.
To dry, place the pops in a styrofoam brick. This will keep the pops from touching each other. I actually put the brick in the fridge. The cold helps the chocolate dry faster which can stop drips of chocolate down the sticks.
Aren't they so cute?
You can also put the cute little cake pop baggies over them and they make a cute gift.
Do you have a favorite treat you like to make at Easter? Share and leave a comment below!
Follow me on Pinterest and you can see all the DIY projects I'm pinning!
You Might Also Like These Tutorials:
Follow The Crafty Blog Stalker