For Pokemon lovers, it doesn't get any better than having a chance to make your favorite Pokemon. Here are 20 tutorials on how to make popular Pokemon characters.
Are you or your child obsessed with the Pokemon Craze? Gotta catch 'em all, right?
There are so many fun kid crafts below that would be fun to make on a hot summer day inside, or get a group of friends together and have a Pokemon Party!
No matter how or when you do it, everyone is sure to have a lot of fun and leave with something they can be proud they made.
More Kid Craft Ideas:
Kid crafts are a great way to keep kids busy and help them use their minds all at the same time! We love sharing kid craft tutorials like this Fishtail Stretch Bracelet, these Sharpie Tie Dyed Shoes, and these Paper Strip Hearts.
Take a look around and see all of the kid craft tutorials we have!
Pokémon Crafts:
Simply select the project title to be taken to the step-by-step instructions.
Pokémon Go enthusiasts, create a unique gift with our laser-cut clock instructions! Follow our detailed guide to make a Pokemon-themed clock for yourself or help your child make their own. Get crafting today!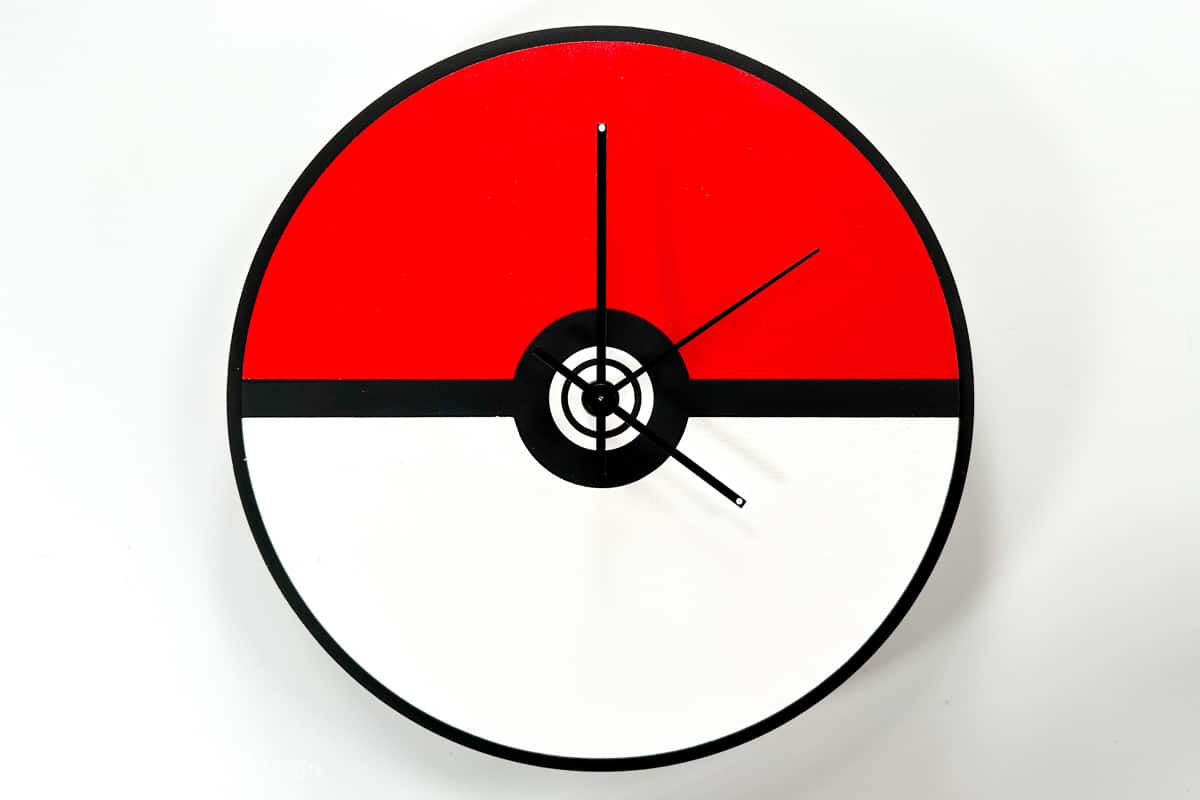 These DIY Pokemon-inspired stress balls are so simple to make and any Pokemon-obsessed kid will love making their own stress balls inspired by their favorite characters. They also make a great handmade gift!
This plush requires two different colors of felt, a needle, thread, paint, and stuffing. Assuming that you already own a needle, thread, and paint, it will cost you less than $1.
Are you playing it?! Because I think everyone out there might be – I love spotting people on the sidewalks as I drive by. My kids are pretty hooked on it, they've gotten creative and tackled a Pokemon Go fun craft using their go-to favorite medium – Perler Beads!
Whether it's for an adult or child, these Custom Pokemon Party Favor Bags are the perfect addition to your Pokemon Master Party!
These Pokemon bookmarks are such a fun craft for Pokemon fans. This is an easy Pokemon craft idea, perfect for a Pokemon lover. Visit the website to see how she makes this Pokemon craft for kids in minutes!
A fun Pokémon Party idea that would be perfect for a kid's birthday party or a Pokémon GO Hunting Party! Just look at how cute those Pikachu ears are!
If you have Pokemon Go fans at your house they will love bringing the fun indoors by making this DIY Pokemon Go Pikachu Charm Bracelet.
Pokemon fans of all ages will love to make this Bulbasaur planter! Using recycled materials, an air plant or succulent is the perfect addition.
Fold up your own Pikachu using the paper folding art called origami. A fun Pokemon craft!
I'm sure all you nerds like me out there don't need much explanation for this project ? I made it from some scraps I had from an earlier blanket project.
Everything you need to create a successful Pokemon party. Includes game ideas and decorations.
One of the most distinguishable items from Pokemon is the red and white Pokeball. Just the other day I thought it would be fun to make DIY Pokemon crafts for kids by making a big Pokeball suncatcher. And it turned out beautiful!
Build a Pikachu, Squirtle, and Pokeball. Your kids will find their favorite character in this post!
You can bet that with the Detective Pikachu movie out and Pokémon GO all the rage, we were excited to make these Pokémon Charmander & Pikachu pocket notebooks!
This one is relatively straightforward. Please follow the written instructions, on the PDF, regarding the flame assembly. And a penny glued to the inside of the tummy is recommended for stability.
Easy DIY Pokeball for kids. Find out how to make a Pokeball with this quick tutorial.
The Pokemon Go craze has hit the world! Everyone is out walking and catching Pokemon – a perfect summer activity! If after all your Pokemon catching or when your phone is on recharge, you may want to reach out for a book and relax. Make yourself a fun Pokemon Bookmark corner – these Pokeball Bookmarks are just the thing!!!!
These DIY Pokemon party favors are super easy to make, and really only take a few minutes of hands-on time.
Today we show you how to easily make your own cute Pokemon in the form of pom-poms.
Our Crafting Essentials List: